Imagine you're looking for a new medical provider. Your first move? If you're like most people, you start by doing research online. As healthcare providers who live by our trades, online ratings, and reviews can make or break us. When someone researches your name, you want them to find positive feedback and the kind of glowing reports that make them confident in your services. 
Knowing which review sites are used most by potential clients is important. To optimize client traffic to your online listings and website, you want to monitor your online presence.
Let's explore some of the best sites for doctor reviews. First, though, let's discuss why the most successful providers keep an eye on their online reviews.
Why Medical Providers Should Care About Online Reviews?
At the heart of any effective patient-provider relationship is the therapeutic alliance. Your patient's ability to trust in your quality of care and expertise is critical. JAMA research shows that mutual trust promotes a more accurate diagnosis, improved healthcare quality, and superior patient satisfaction.
Building trust begins with patient perceptions of a healthcare provider via their reputation. Negative online reviews can create an impression of doubt, while positive reviews can promote a feeling of positive regard.
These reviews truly matter because 72% of people look at doctor' reviews when choosing a new provider. In a way, online feedback has replaced the community advisement used in the past. The internet has become the village that you ask for advice on what to do next.
To benefit from online review, be intentional about watching and impacting what the internet says about you and your services.
10 Sites Doctors and Medical Providers Should Monitor
So, what are the top sites that you, as a healthcare provider, should monitor?
There are healthcare directories and reviews. Each site is slightly different, and only some matter to your unique subfield and practice. Read on to learn about eight of the most commonly used sites for doctor reviews. Keep in mind that there are more. These are the top sites to watch in 2023.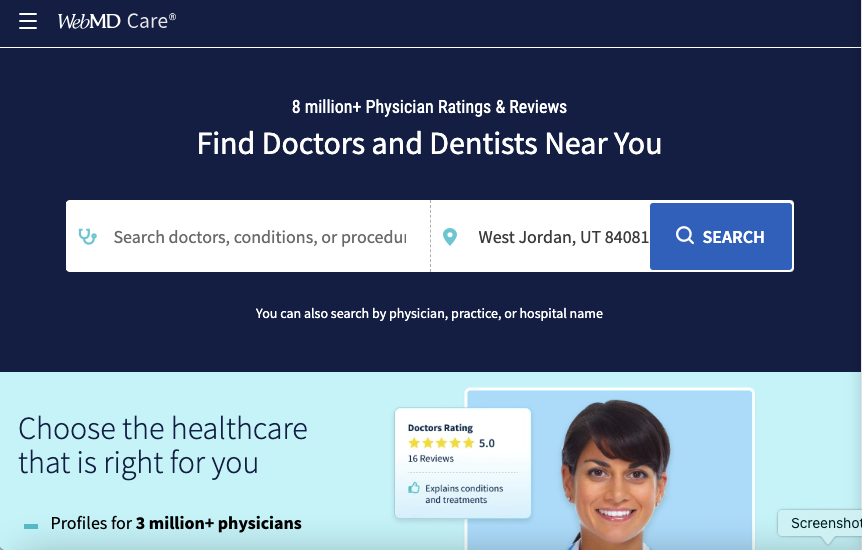 If you feel overwhelmed or don't know where to start, Kiwi Health's channel listing service lets you list your practice on 30+ directories with just one click. KiwiHealth's listings are catered to health and medical services, so you can easily grow your patient prospects,
Tips for Online Review Management
While online reviews are important to the reputation of your practice and can help drive customer engagement, the thought of judgment can be intimidating! Try not to be anxious about managing your professional reviews.
Here are a few key tips for online review management that can help.
Gather information. This is crucial. Check out the best sites for doctor reviews and see what information is there about your work! Google yourself and your practice and see what comes up. Also, be sure to check out some of the sites covered above.
Solicit positive feedback. Use your satisfied patient base and your community email contacts to solicit kind words to verify your skills and professionalism. Remember who you're helping and that your happy customers are likely to want to vouch for you with good reviews.
Don't be afraid of the haters. As much as most of us fear criticism, it's important to realize that nothing but absolutely glowing reviews may look unrealistic to consumers. If feedback looks too perfect, potential clients may doubt the validity of the reviews. A negative review here or there can make your review profiles seem more legitimate.
Respond to complaints with calm, succinct, and clear communication where you can. If the negative comment is on a site where providers can respond, doing so can create a professional impression for potential patients. At times, the reviewer may even remove the negative feedback.
Final Thoughts for Driving Growth
You'll likely see the most organic growth if you list your business on multiple channels. Kiwi Health offers a navigation tool that can help you explore and get added to these channels to enhance the success of your practice. With some planning and leg work, you can ensure a strong online presence that lets ideal clients locate and validate you with ease. Get ready to see your practice grow into the one you've been dreaming of.