Are you a healthcare professional striving to attract new patients online? As the healthcare landscape evolves, so does the way you connect with patients and promote your practice. You're not alone if you feel overwhelmed by the myriad of digital marketing strategies out there.
Fear not, because in this article, we dissect the complexities of digital healthcare marketing and outline a comprehensive solution tailored specifically for healthcare. Whether you're an individual practitioner or part of a medical group, we guide you through strategies to boost your online presence, attract more patients, and, ultimately, elevate your practice to the next level.
What Is a Digital Healthcare Marketing Strategy?
A healthcare marketing strategy is a comprehensive plan designed to promote medical services, engage patients, and expand a medical practice's reach online. It encompasses a range of digital marketing tactics and approaches tailored to the unique needs of healthcare.
Important elements of a digital healthcare marketing strategy include defining target patient demographics, creating engaging and informative content, choosing the right digital platforms for outreach, establishing key performance indicators (KPIs) for measurement, and adapting your strategy based on data-driven insights.
Digital marketing is crucial for medical practitioners due to the changing patient behavior, where patients increasingly rely on the Internet for health information and convenience. It enhances trust, enables targeted outreach, and leverages data-driven decision-making, ultimately leading to increased patient acquisition and revenue.
11 Most Effective Healthcare Digital Marketing Strategies for 2023 
Any comprehensive medical clinic marketing strategy starts with a professional website. This website serves as the focal point of your digital marketing initiatives and plays a pivotal role in promoting your clinic's services.
The primary objective of your website should revolve around delivering relevant information to visitors so they can make an informed decision regarding your ability to help them with their concerns.
1. Search Engine Optimization (SEO)
Search engines have been used for decades and will continue to sort web content for many years to come. In terms of digital marketing for healthcare professionals, especially those running individual practices, harnessing the power of SEO for medical providers is a game-changer.
Optimizing your website and online content with relevant keywords related to your medical services will boost your visibility on search engine results pages. This ensures that when potential patients search for healthcare information or services, your practice is visible. Creating high-quality, informative, and engaging content that addresses common patient queries not only enhances their experience but also works wonders for your SEO rankings.
Don't forget to continuously monitor your SEO performance, track website analytics, and stay updated with search engine algorithm changes to ensure your digital marketing strategies remain effective in the ever-evolving healthcare landscape.
2. Reputation Management
For individual healthcare practitioners, building and maintaining a strong online presence and reputation is paramount. Actively monitoring and shaping online reviews and patient feedback is key.
By promptly addressing patient concerns and engaging with positive reviews, you establish trust and credibility among potential patients. A positive reputation becomes a magnet for word-of-mouth referrals and sets you apart in the competitive healthcare arena.
3. Networking
Networking is an invaluable asset in the digital marketing arsenal of medical practitioners running independent businesses. Establishing connections with colleagues, referral partners, and influential figures in the healthcare industry opens doors to collaborative opportunities and mutual referrals. 
Networking events can take place online or in person. Check your local area to see what networking events are taking place in your region. You might be surprised by what your local community is already doing. 
Active engagement in online healthcare forums, social media groups, and professional networks not only expands your reach but also enriches your knowledge, bolstering your digital marketing efforts. In-person events can allow you to interact on a deeper level with potential clients and business partners and are a good way to build trust and brand awareness in your local community.
4. Paid Advertising
To reach a broader audience effectively, consider the power of online advertising. Platforms like Google Ads and Facebook Ads allow you to target specific demographics and geographic areas, ensuring your message reaches the right audience. Well-crafted ad campaigns boost your visibility, drive traffic to your website, and generate leads for your practice.
5. Social Proof
Demonstrating social proof through patient testimonials, case studies, and success stories is a persuasive digital marketing strategy. Sharing real-life experiences and positive outcomes from satisfied patients builds trust and credibility. This can establish yourself as the expert who is able to help others with similar problems.
6. Analytics
Your digital compass is data analytics. Monitor website traffic, user behavior, and conversion rates to gain insights into the performance of your marketing strategies. These insights empower data-driven decision-making, allowing you to continuously refine and improve your digital marketing efforts to remain effective and up-to-date.
7. Medical Listing Management
Ensuring the accuracy and consistency of your practice information across online directories like Google My Business and Healthgrades is vital for solo medical practitioners.
Listing your practice enhances local SEO, making it easier for patients to find your services locally when they search online. Accurate listings not only improve visibility but also foster trust and reliability, as patients often rely on directory information to verify credentials and contact information.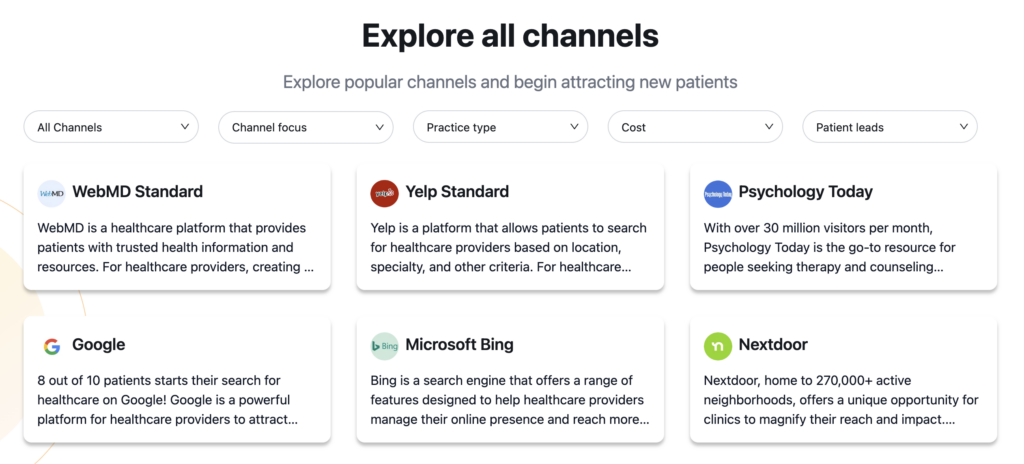 8. Consistency
Consistency in digital marketing means maintaining a regular and uniform presence across all your online channels, including your website, social media profiles, email communications, and content creation.
Consistency builds trust and recognition among your audience. When patients see consistent messaging and branding, they're more likely to remember and trust your practice. It also helps maintain engagement and keeps your audience interested.
Create a content calendar to plan and schedule your online activities. Stick to a posting schedule for social media, blog updates, and email newsletters. Ensure your branding elements, such as logos and colors, are consistent across all platforms.
9. Continuous Improvement
This strategy involves continuously evaluating and enhancing your digital marketing efforts based on data and feedback.
The digital landscape is dynamic, and what works today might not work tomorrow. Continuous improvement allows you to stay relevant, adapt to changing trends, and optimize your marketing for better results.
Regularly review your website analytics, social media insights, and email campaign performance. Identify areas where you can make improvements, whether it's refining your content, targeting specific demographics, or adjusting your advertising strategies.
10. Re-Evaluate KPIs
KPIs are specific metrics you use to measure the success of your digital marketing efforts, such as website traffic, social media engagement, conversion rates, or patient acquisition.
As your practice evolves, your goals and priorities may change. Re-evaluating your KPIs ensures that you're tracking metrics that align with your current objectives. It prevents you from focusing on outdated metrics that no longer serve your practice.
Periodically review your marketing goals and objectives. Are you looking to attract more patients, increase brand awareness, or enhance patient engagement? Based on your goals, adjust your KPIs to measure the specific outcomes you want to achieve. This ensures that your digital marketing efforts are aligned with your practice's evolving needs.
11. Centralize Medical Practice Marketing Efforts
Centralizing various digital marketing activities simplifies the complex process of building and maintaining an effective online presence. Streamlining lets you:
Save time and effort by managing multiple marketing channels from a single dashboard.
Ensure a consistent and professional online brand image across platforms.
Harness the power of data analytics to refine marketing strategies for maximum effectiveness.
Enhance patient engagement and accessibility, ultimately leading to increased patient acquisition and practice revenue.
In a world where healthcare and digital marketing intersect, Kiwi Health's patient growth platform is the key to unlocking your practice's full potential. It empowers medical practitioners to focus on what matters most—providing exceptional patient care—while it takes care of the intricacies of digital marketing.
Bottom Line
By embracing the 10 proven healthcare digital marketing strategies outlined in this article and considering solutions, like Kiwi Health's patient growth platform, you not only save time but can also grow your practice.
Let your journey to success in the digital healthcare landscape begin today as you discover increased patient acquisition, enhanced brand visibility, and a flourishing practice that thrives in an increasingly digital world.