In an era where handheld screens are the new exam room, a quiet revolution is reshaping the way patients receive healthcare. Telehealth visits let patients consult with a specialist from the comfort of their homes and monitor their health without setting foot in a clinic.
Welcome to the future of private practice – where telehealth isn't just a trend. In this article, learn about healthcare marketing tools that save you time, money, and frustration.We also cover the top 10 recommended healthcare marketing tools for your practice:
Let's discover how to attract your next patient with the power of marketing.
Why Telehealth Providers Need a Marketing Strategy?
As a telehealth provider, you need a marketing strategy to promote your services and attract new patients. 77% of patients use online reviews to find a new doctor. A well-executed strategy ensures your practice has a steady stream of new customers coming to your practice.
Many things go into building a successful marketing strategy. Instilling trust in patients requires consistency across communication touchpoints to create a strong, consistent brand identity.
Engaging patients, sharing information, and reminding them of appointments are easy to do with email marketing.
And a complete search engine optimization (SEO) strategy can boost online visibility, helping potential patients find the services you provide.
Here's a rundown of the 10 most effective healthcare marketing tools and tool segments for your practice.
Email Marketing Software
Email marketing is a powerful tool for telehealth providers. It lets them engage and educate patients easily. Its unique benefits include cost-effectiveness, targeted messaging, and personalized communication. Pros include high ROI, targeted reach, and ease of automation. However, cons can include the time commitment needed to build an email list, write and design emails, and build automated communication flows (called funnels).
ConvertKit
ConvertKit is an email marketing platform designed for ease of use and personalization. It's ideal for telehealth providers looking to nurture patient relationships and deliver tailored healthcare content. ConvertKit helps providers send targeted health tips, appointment reminders and educational materials to create patient engagement.
The tool is budget-friendly and a good starting point for most small practices. Convertkit is also user-friendly.It lets youautomate many features, personalize content, and provides detailed analytics.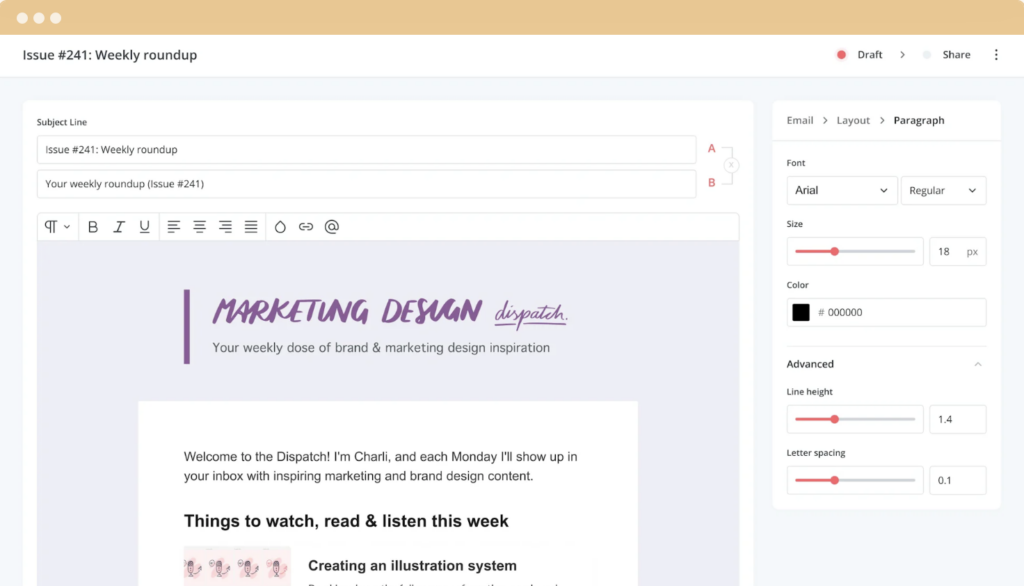 Photo credit: https://convertkit.com/features/email-designer
With ConvertKit, you can easily and quickly design a professional-looking email or email campaign (a series of emails) that can be automated.
Mailchimp
Mailchimp is a versatile email marketing platform that offers automation and a wide range of design tools.
Mailchimp lets you send visually engaging health newsletters, appointment confirmations, and wellness tips to patients. Mailchimp also offers a free plan for basic needs and paid plans that increase based on the size of your email list.
Photo credit: https://mailchimp.com/solutions/email-marketing-platform/
MailChimp lets you use AI to build and create engaging emails your subscribers will want to read.
SEO (search engine optimization) is vital for enhancing your medical website's visibility on search engines, like Google or Bing. The benefits of an SEO strategy include getting found by people looking for providers in your area, increased credibility, and attracting patients.
SEO requires ongoing effort, ongoing learning, patience, and adapting to search engine algorithm changes, which are virtually constant
Kiwi Health Medical SEO Builder
The Kiwi Health medical SEO solution is an ideal resource for your telehealth practice if you want to increase your website's website visibility on search engines, patient engagement, and content optimization. The builder lets you increase visibility on search engines quickly. It's a comprehensive solution that makes SEO for your medical practice quick, easy, and automatic. All you have to do is sign up and Kiwi Health does the rest.
As a telehealth provider, you benefit from online reputation management. A good online reputation safeguards your image.
A reputation management service actively monitors and manages online reviews, social media mentions, and comments, to ensure positive patient experiences are highlighted, and negative feedback addressed promptly. This builds trust for your practice, attracts more patients, and reinforces your commitment to excellent patient care.
Kiwi Health Medical Channel Listing
Kiwi Health's channel listing service is a unique service aimed at promoting your practice on healthcare and other online directories, such as WebMD, Psychology Today, Yelp, etc. The tool benefits your telehealth practice by extending your visibility to a broader audience.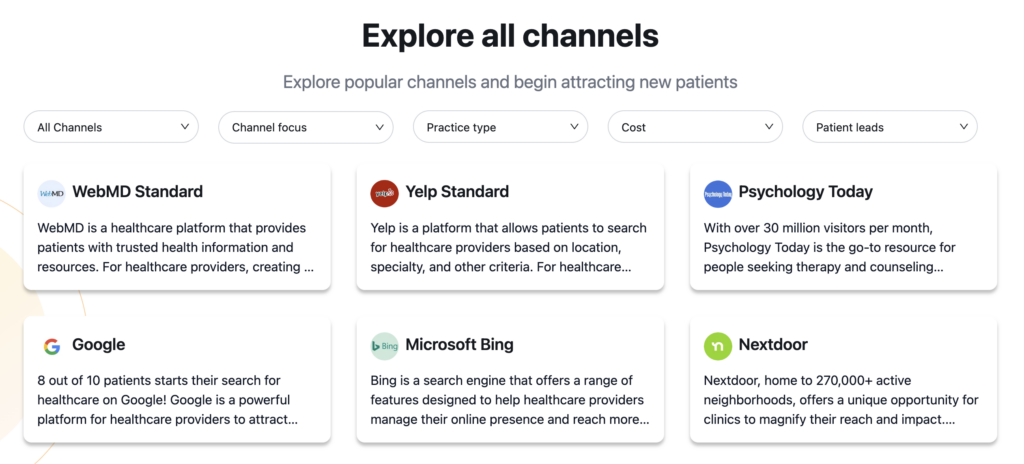 These are just a few of the listing services available with Kiwi Health.
Photo credit: https://www.kiwihealth.com/features/channels
Branding toolkits help you establish and maintain a strong, cohesive practice brand identity. These toolkits often include guidelines on logo usage, color schemes, typography, and messaging. By ensuring that your brand looks the same across platforms and materials, you can build a consistent, recognizable, and trustworthy brand that resonates with patients, enhancing your practice's credibility and fosters recognition and patient loyalty.
Canva
Canva is a versatile, easy-to-use design platform suitable for healthcare providers and telehealth professionals. It empowers you to create visuals, marketing materials, and patient resources. Canva can also help you design patient education materials, visually appealing social media graphics, and informative infographics, enhancing patient engagement.
Canva offers a free basic version. And a Pro subscription starts at just under $10 a month ($119.99 a year) per month, which makes it accessible if you have a limited budget. The interface is user-friendly, with no graphic design skills required and a wide range of customization options.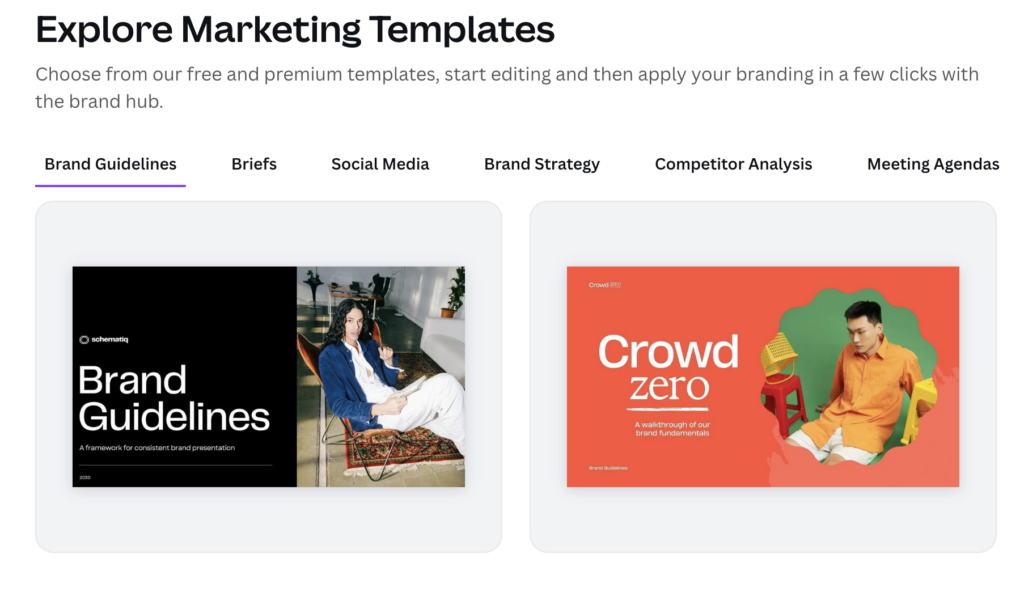 Photo credit: https://www.canva.com/solutions/marketing/
Social media marketing is a useful strategy for your telehealth practice. When doing social media marketing, you use social media, such as Facebook, Tik Tok, or Instagram, to connect with patients and potential patients, share content, and build a brand for your practices and potential community of followers.
Instagram
Instagram is a leading social media platform with a strong visual and video focus. It gives your telehealth practice a unique space to share informative content, engage with patients through live sessions, provide updates on services, and build an online presence that appeals to a wide range of potential and current patients.
Instagram is a free platform to use. However, there may be advertising costs for promotional campaigns, which vary depending on the scope of your campaign.
Instagram offers you the possibility of high engagement, visual storytelling, direct patient interaction, and the potential to reach a broad, diverse audience.
Know that maintaining a consistent posting schedule can be time-consuming.
Facebook
Facebook is one of the largest social media platforms and owns Instagram. It offers your practice extensive reach to connect with patients, share health content, and build a community. 
There is no charge for using Facebook for organic (or unpaid) social media. Depending on the budget and scope of a campaign, paid advertising is available and costs vary.
The broad reach of Facebook, diverse options for sharing content, robust advertising tools, and direct communication options make Facebook an easy-to-use marketing tool.

Photo credit: https://www.facebook.com/business/tools/meta-business-suite
LinkedIn
LinkedIn is a professional networking platform that gives your practice a unique business-to-business space to build professional connections, share industry insights, and showcase your expertise. It's an excellent platform for networking and career development too.
LinkedIn is free for organic use and offers a paid premium plan for job seekers. It supports paid paid advertising as well.

Photo credit: https://www.linkedin.com/
Automation can help simplify your marketing efforts. It lets you plan and automate publishing marketing content across various platforms. You create consistency and easily post regularly on multiple channels.
A scheduling tool lets your practice maintain an active online presence, engage patients, and efficiently manage posts and see how they're performing.
Buffer
Buffer is a comprehensive social media management platform that lets you schedule posts, analyze engagement, and manage multiple social media accounts in one place. YOu can efficiently plan and post content to ensure your practice has a consistent online presence and optimized engagement.
Buffer offers efficient content scheduling, detailed analytics, platform integration, and collaboration features for team-based social media management.
Costs go up as you add more features and social channels and there is a learning curve for new users with Buffer.

Photo credit: https://buffer.com/
Hootsuite
Hootsuite is another powerful social media scheduling and management tool that lets your practice schedule, monitor, and analyze its social media presence. Hootsuite simplifies the process of maintaining a consistent social media schedule, optimizes engagement, and monitors patient interactions and feedback for you.
Hootsuite offers streamlined scheduling, real-time social media monitoring, detailed analytics, and integrations with multiple platforms for a holistic approach to social media management. Costs go up with additional features, and it can take time to master the tool's capabilities.
Ready to Start Marketing and Growing Your Practice?
There are many innovative tools to simplify and amplify your practice's marketing efforts. From email marketing to SEO tools, branding, social media, and social scheduling, these tools are your allies in reaching and engaging patients more effectively.
Take advantage of their power to build a robust online presence and realize practice growth. Start now by taking 30 minutes to learn more about the Kiwi Health patient growth platform.