Healthcare is changing. Your reputation should keep up. An online presence has become a critical part of running a successful healthcare practice. Patients often turn to the internet to research and choose their healthcare providers, making it essential for medical practitioners to maintain a positive online image. A positive online image is oftentimes the reason a new patient chooses you. However, a negative online image could be the reason they choose a competitor.
In this guide, we will explore reputation management for medical practices, why it matters for medical professionals, the platforms patients use to leave reviews, and practical tips for improving and managing your online reputation.
Why Is an Online Reputation Important for Healthcare Professionals?
Your online reputation refers to the collective perception and image that individuals, including patients, have of your healthcare practice or individual medical professional. It encompasses the information available about you on the internet, which can include patient reviews, social media tags, website content, and online directories.
A strong online reputation is built on trust, credibility, and positive patient experiences. Your online reputation plays a pivotal role in attracting new patients and retaining existing ones. This version of you is the collective perception and image that you or your practice portrays digitally. The scary part? Whether you're aware of your online reputation — or not — you have one.
Why Does an Online Reputation Matter for Medical Practitioners?
Patient trust, competitive advantage, and patient retention are pivotal components of an online reputation for medical practitioners. Trust forms the foundation of any successful healthcare practice; when patients trust their healthcare providers, they are more likely to seek help.
A positive online reputation instills this trust, making potential patients feel more confident in the services you provide. Moreover, in a competitive healthcare landscape, where patients have multiple options, a strong online reputation can set you apart from your peers. It not only attracts new patients but also enhances your practice's competitive advantage, as patients are more inclined to select a healthcare provider with a stellar online presence.
Additionally, a robust online reputation contributes to patient retention. Satisfied patients who find positive information online are more likely to continue seeking your services, return for follow-up care, and refer others, thereby fostering a loyal patient base that bolsters the long-term success of your practice.
Build Patient Trust
A positive online reputation instills trust in potential patients. They are more likely to choose a healthcare provider with a strong online presence and positive reviews. People listen to other's experiences. When patients are seeking care, they want to know that the person who will be managing their care is someone they trust to have their best interest at heart. Testimonials and online reviews serve this purpose for many seeking healthcare.
Competitive Advantage
In a competitive healthcare landscape, a stellar online reputation can set you apart from your peers, making patients more inclined to choose you over others. Whether you work for a large healthcare organization or you want to start your own clinical practice, your online reputation can give you a competitive edge. Your online reputation is what sets the stage for how your patients will be treated.
Practice Growth
A robust online reputation can lead to a steady influx of new patients, allowing your practice to grow and expand. This is true whether you've been in clinical practice your entire career or are just starting out. Your online reputation can act like your sales team- sharing who you can serve and how you can serve them.
Patient Retention
Patient loyalty hinges on the perception of your practice, and in the digital age, this perception often starts with an online search. Therefore, a carefully managed online reputation can significantly impact whether patients continue to seek your services. It's not just about attracting new patients; it's about nurturing a relationship that keeps them coming back, knowing they can trust and rely on your expertise and care. In essence, your online reputation can be a driving force behind patient loyalty and the long-term success of your medical practice.
Satisfied patients who find positive information online are more likely to follow through with your services and refer others. Customer loyalty is an important part of the business. The way you are positioned online could enhance or hinder if those patients continue to come back.
Common Platforms Patients Use to Leave Healthcare Reviews
To effectively manage your online reputation, it is crucial to be aware of the platforms where patients commonly leave reviews. Understanding why patients use these common review platforms and why healthcare providers should prioritize them is vital. Each platform offers a unique opportunity to shape your online reputation, influence patient decisions, and foster trust. By actively managing your presence on these platforms, you can ensure that your online reputation accurately reflects the quality of care you provide, ultimately attracting and retaining patients in the highly competitive healthcare landscape.
Google
Google reviews are highly influential in shaping the perception of your medical practice. Patients often turn to Google as their initial source of information when searching for healthcare providers. A staggering 8 out of 10 patients start their healthcare search on Google. Patients rely on Google reviews to gain insights into the quality of care, overall patient experiences, and professionalism of the medical practitioners. It's a platform where patients seek validation and trust, making it imperative for healthcare providers to actively manage how they present themselves and their businesses through search engines.
Yelp
While most think of restaurant reviews when it comes to Yelp, it is also a platform where healthcare providers are reviewed and rated. Patients, accustomed to using Yelp for other consumer decisions, often extend their usage when it comes to choosing a healthcare provider. By paying attention to Yelp reviews, you can ensure that your practice maintains a positive image among those who seek information on this platform.
Healthcare-Specific Websites
Platforms like Healthgrades and RateMDs are dedicated to healthcare reviews and ratings. Patients visit these sites with a specific intent: to find detailed information about medical professionals. These platforms allow patients to filter based on specific qualifications, patient feedback, and specialty. Healthcare-specific websites like these play a pivotal role in decision-making for many, especially for those seeking specialized care. Your medical reputation management strategy should pay particular attention to maintaining positive profiles on these platforms, as they serve as trusted resources for those seeking healthcare.
Social Media
Patients may leave reviews and comments on social media platforms where your practice has a presence. Social media is not just a means of engaging with your audience but also a space where patients share their experiences, both positive and negative. Social platforms provide an opportunity for patients to connect, ask questions, and express their opinions. Medical providers should actively monitor and engage with patients on these platforms to ensure that the online conversation about their practice remains positive.
Your Website
Encouraging patients to leave reviews directly on your website is a strategic move. It showcases their experiences and builds credibility. When patients visit your website and find authentic, positive testimonials, it strengthens their trust in your expertise. Your website serves as a centralized hub for your online reputation and allows you to control the narrative, providing potential patients with the assurance they need to choose your services.
5 Tips to Improve Online Reputation for Your Practice
The online realm has become a virtual waiting room where patients gather information, read reviews, and form opinions long before they step into a physical clinic. As such, healthcare providers find themselves navigating a new landscape— one where their online reputation carries immense weight.
But why should healthcare professionals be concerned about improving their online reputation? Your online reputation is the gateway to patient trust, practice growth, and long-term success in the healthcare industry. A strong online reputation instills confidence, attracting new patients and encouraging existing ones to return.
Here are a few online reputation management best practices you can use to project a sense of credibility and trust, influencing a patient's decision-making process. Below are actionable strategies for healthcare professionals to enhance and manage their online reputation effectively, acknowledging its pivotal role in securing patient loyalty and thriving in an increasingly digital healthcare landscape.
1. Engage with Patients Online
Actively engaging with patients on social media platforms is a powerful way to strengthen your online reputation. Promptly responding to comments, messages, and reviews showcases your commitment to patient care. Address both positive and negative feedback professionally and empathetically. Positive interactions with patients online not only enhance your reputation but also foster a sense of trust and loyalty.
Nebraska Home Pediatrics does a great job of staying connected and engaging with patients and potential patients through their Facebook page. Advertising events like their First Annual Trunk of Treat Party gives them an opportunity to interact with new and existing patients in the local area.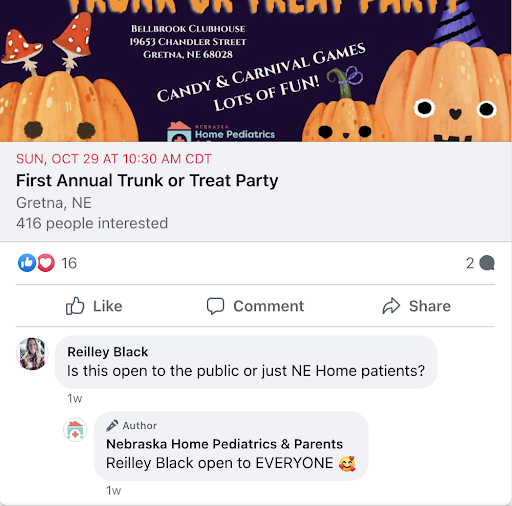 2. Ask for Reviews
Encouraging satisfied patients to leave reviews is a proactive step in managing your online reputation. Send follow-up emails or messages requesting feedback after patient visits or procedures. Make the process as simple as possible to eliminate any and all friction patients will have to overcome in order to leave a positive review. Provide direct links to review platforms like Google, Healthgrades, and Yelp with your messages. Reviews from happy patients serve as valuable endorsements that can influence prospective patients' decisions.
Rapport Dentistry demonstrates this through its Instagram account. By asking for and publishing patient testimonials, they are demonstrating their commitment to excellent patient experiences.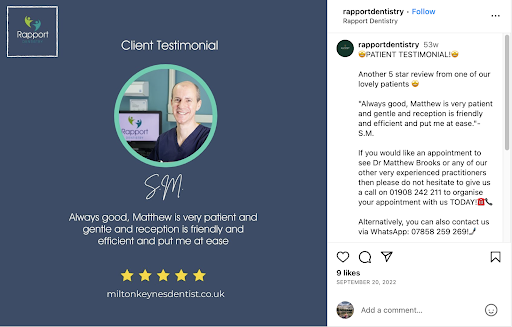 3. Monitor Your Brand's Online Mentions
Regularly monitoring online mentions of your practice or your name is essential for staying informed about what patients are saying and for addressing any potential issues promptly. Utilize tools like Google Alerts or social media monitoring software to track online conversations related to your practice. When negative reviews or comments arise, respond professionally and empathetically. Seek to resolve patient concerns quickly while still maintaining patient confidentiality in order to demonstrate your commitment to patient satisfaction.
4. Manage Your Online Listings
Ensure that your practice's information is consistent and up-to-date across various online directories, as this makes it easier for patients to find you. Accurate listings on platforms like Google, Healthgrades, and Yelp enhance your online visibility and credibility. Patients often rely on these directories for contact information, location, and services offered.
When potential patients search for medical providers in their local area, they are often met with a curated list like the one from Yelp below. In this instance, it is beneficial that your practice is listed and ranking well on platforms like these. This will ensure the best online image possible.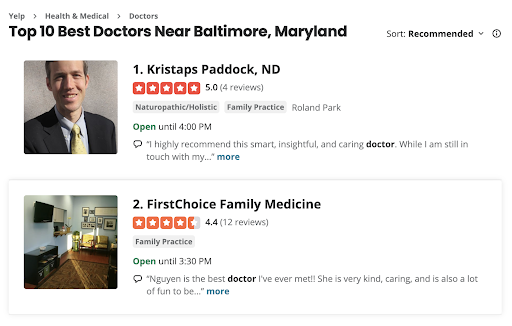 5. Stay Consistent Across all Online Listings
Consistency in your online presence is key to effective reputation management. Use the same branding, contact information, and imagery across all digital platforms, including your website, social media profiles, and online directories. A consistent online image reinforces your practice's identity, making it easier for patients to recognize and trust you and your brand.
Next Steps
At this point, you may be wondering how to facilitate your own online presence. That's where Kiwi Health comes in. Kiwi Health gives you access to a medical website builder and automated medical SEO. You also get the online channel listing service.
Kiwi is a comprehensive patient growth platform that assists healthcare professionals in every aspect of healthcare online reputation management. Kiwi helps you proactively manage your online presence through a proactive multi-channel approach to increase visibility and create consistent messaging.
In summary, managing your online reputation is vital for the success of your healthcare practice. Patients rely on the internet to make informed decisions, and a positive online image can significantly impact your growth and patient trust.
By implementing the strategies outlined in this guide and considering the services offered by Kiwi Health, you can take proactive steps to enhance and maintain your online reputation in the competitive world of healthcare.